Melbourne lockdown drags down business credit demand
Equifax Quarterly Business Credit Demand Index: Sept 2020
Overall business credit applications down -11.5% (vs Sept quarter 2019)
Business loan applications decreased by -13.3% (vs Sept quarter 2019)
Trade credit applications fell -6.5% (vs Sept quarter 2019)
Asset finance applications declined -12.0% (vs September quarter 2019).

SYDNEY – 5 November 2020 – Business credit demand data for the September 2020 quarter confirms the impact of stage four coronavirus lockdown on Victorian businesses. With a double-digit drop in business credit (-21.3%), including business loan applications (-22.2%) in Victoria, the declining demand for business credit in this state is twice that of NSW despite comparable market sizes. 
The states and territories that remained open for business in the three months to the end of September 2020 showed stable or improved business credit demand, according to the latest Quarterly Business Credit Demand Index (Sept 2020). Without Victoria included in the data analysis, the rate of decline in business credit demand is considerably less Australia-wide. Business loan applications would constrict by only -9.6%, asset finance by -4.6% and trade credit by -6.0%. A snapshot of Victoria alone is far less upbeat: with business loan applications nosediving to -22.2%, asset finance to -30.7% and trade credit to -7.8%.
Released today by Equifax, the global data, analytics and technology company and the leading provider of credit information and analysis in Australia and New Zealand, the index measures the volume of credit applications for trade credit, business loans and asset finance. 
NSW showed stability in business credit in September 2020, with the volume of applications (-9.6%) compared with the September quarter 2019, on par with the previous quarter when Australia's nationwide COVID-19 lockdown first took place. In Western Australia, there was an improvement in business credit demand. Where last quarter this state showed the greatest drop in applications (-11.96% compared to the June quarter 2019), in the September 2020 quarter this decline had contracted by half (-6.5%).
Queensland has seen a decline in business credit applications, falling from -1.19% in the June 2020 quarter (vs June 2019) to -6.2% for the September quarter.
Moses Samaha, Executive General Manager Customer and Solutions, Equifax said: "The business rebound that many hoped for in the September quarter has not flowed equally across all states and territories. Victoria's extended restrictions have fuelled the negative growth in Australia's overall business credit demand. So too, Queensland's border closures have kept business credit applications in decline."
"Interestingly, despite Western Australia's protracted border restrictions, business credit demand in this state is showing signs of recovery. This is likely attributed to a lesser reliance on tourism than in the Sunshine State. Border closures in Queensland have placed a heavy toll on businesses reliant on a steady stream of domestic and international visitors," he added. 
Asset finance continued a negative trend in the September 2020 quarter, reducing by -12.0% compared to the previous year. This trend is expected to gradually turnaround over the coming year in response to the October Federal Budget announcement of an expansion to the Instant Asset Write-off scheme. 
"Businesses with up to $5 billion in annual turnover can now write off the full cost of any eligible expenses immediately. The aim is to get businesses spending again, and we would expect to see improvements through the first half of 2021," said Samaha.
Trade credit applications were also down by -6.5%, with the pandemic softening demand in all major commercial centres across Australia. Insolvency volumes also trended down, partly driven by the Federal Government's temporary regulatory changes to insolvency trading. 
Business credit applications dropped by -11.5% in the September quarter. The strongest reduction in credit demand was experienced in VIC (-21.3%), which was more than double NSW (-9.6%). The NT (+14.2%) was the only region to experience positive growth*, with SA (-8.8%), WA (-6.5%), QLD (-6.2%), TAS (-3.7%) and the ACT (-1.9%) showing reductions in demand. The impact on the mining (-6.2%) states was half that of the non-mining (-14.5%) states.
Business loan applications remained down in the September quarter (-13.3%). VIC again showed the largest fall (-22.2%), nearly double that of NSW (-12.7%). There was growth in NT (+44.8)*, but reductions in all the other regions: SA (-11.2%), QLD (-8.0%), WA (-6.7%), TAS (-3.5%) and the ACT (-0.5%).
Trade credit applications continued their negative trend in the September quarter (-6.5%). The Mining (-6.5%) states and non-mining (-6.5%) were equally affected: WA (-12.9%), NT (-8.2%), ACT (-7.9%), VIC (-7.8%), SA (-6.3%), NSW (-5.9%) and QLD (-3.3%). TAS (+3.5%) was the only state to experience an upward trend.  
Asset finance applications experienced a sharp fall in the September quarter (-12.0%). The decline was particularly evident in VIC (-30.7%), followed by NT (-19.7%), TAS (-12.6%), SA (-5.9%), NSW (-5.3%), QLD (-4.8%). WA and the ACT both increased slightly by +0.8%.  
* Please note this is based on low volumes of enquiries
IMAGE 1: Equifax Commercial Credit Demand Index – September 2020 Quarter

GRAPH 1: Business Credit Applications – Quarterly YOY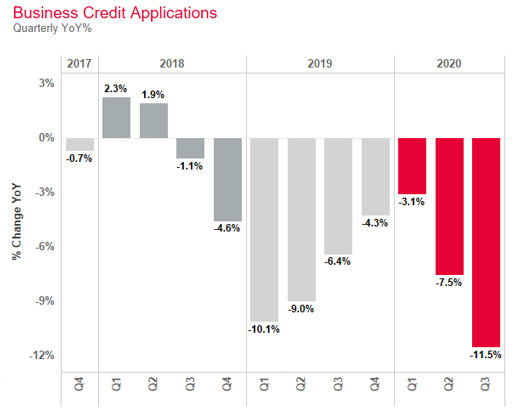 ###
ABOUT EQUIFAX
At Equifax (NYSE: EFX), we believe knowledge drives progress. As a global data, analytics, and technology company, we play an essential role in the global economy by helping financial institutions, companies, employees, and government agencies make critical decisions with greater confidence. Our unique blend of differentiated data, analytics, and cloud technology drives insights to power decisions to move people forward. Headquartered in Atlanta and supported by more than 11,000 employees worldwide, Equifax operates or has investments in 25 countries in North America, Central and South America, Europe, and the Asia Pacific region. For more information, visit www.equifax.com.au or follow the company's news on LinkedIn.
FOR MORE INFORMATION
NOTE TO EDITORS
The Quarterly Business Credit Demand Index by Equifax measures the volume of credit applications that go through the Commercial Bureau by financial services credit providers in Australia. Based on this, it is a good measure of intentions to acquire credit by businesses. This differs from other market measures published by the RBA/ABS, which measure new and cumulative dollar amounts that are actually approved by financial institutions.
DISCLAIMER
Purpose of Equifax media releases:
The information in this release does not constitute legal, accounting or other professional financial advice. The information may change, and Equifax does not guarantee its currency or accuracy. To the extent permitted by law, Equifax specifically excludes all liability or responsibility for any loss or damage arising out of reliance on information in this release and the data in this report, including any consequential or indirect loss, loss of profit, loss of revenue or loss of business opportunity.