SYDNEY – 30 September, 2020 – Nine of the top ten regions for mortgage deferrals during the first wave of COVID-19 lockdowns were Queensland tourist destinations, Equifax analysis shows.
As many mortgage deferrals come up for review within the next month, these are the first indications of the impact of state and regional based Covid-19 lockdowns on the ability of Australians to continue to meet their mortgage repayments.
"This is an important analysis of mortgage affordability and borrower behaviour as the country grapples with further lockdowns and the economic impact of lockdowns emerge", said Kevin James General Manager Advisory and Solutions, Equifax.
The Equifax deferral analysis was conducted in September 2020 based on credit history and repayment information available for the month of May 2020.
Among the Australian regions with a higher proportion of deferrals compared to the national average were Noosa, Surfers Paradise, Coolangatta, Mudgeeraba-Tallebudgera, Broadbeach-Burleigh, Southport and the Gold Coast Hinterland.
"The impact of the downturn on tourist trade is acute for Australians living in tourism-dependent Queensland regions", Mr James said.
"Tourism is a major industry for Queensland, and with international and domestic visitors curtailed during the pandemic, tourist hotspots have faced reduced occupancy rates, lower incomes and higher levels of unemployment leaving mortgage holders feeling the pinch. With the Queensland border beginning to reopen to parts of NSW and SA this week, we expect to see a bounce back as tourism dollars start to flow back into the region."
GRAPH 1: Proportion of Mortgages Deferred by Accounts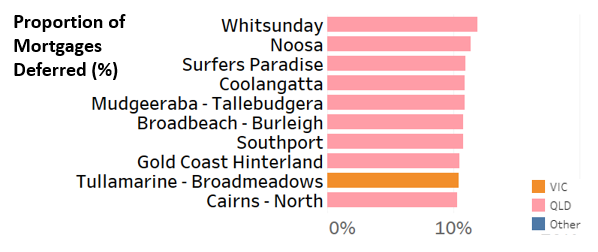 Melbourne suburbs in the top ten deferral hotspots
Tullamarine-Broadmeadows on the outskirts of Melbourne, Victoria, was the only non-Queensland location to make it onto the top-ten list of mortgage deferral hotspots.
However, several of Melbourne's fringe suburbs also showed signs of heightened mortgage stress during May 2020, when data was available for this Equifax analysis. Wyndham, Casey-South, Whittlesea-Wallan, Melton-Bacchus Marsh and Boroondara had a high number of mortgage deferrals compared to the national average.
The financial difficulty experienced in these Victorian regions can be attributed to a higher prevalence of lower socio-economic suburbs, with low-income households and young people just starting out on the property ladder.
"COVID-19 is having a particularly negative effect on the employment of young people. For those without significant savings, it isn't easy to service a home loan when cash flow dries up. We know Melbourne's second lockdown will have further exacerbated the difficulties we've seen in our initial analysis on the available May data. Equifax will be closely monitoring this over the coming months to identify new hotspots," James said.
GRAPH 2: Number of Mortgages Deferred by Accounts

Middle-aged Australians struggling more to pay their mortgage
Equifax research reveals Australians aged 36 to 45 are the most likely age group to defer their mortgage repayments during COVID.
James said: "There are more middle-aged people seeking mortgage payment relief than any other age group. This group is likely to have relatively high outstanding mortgage balances and may have been harder hit with business lay-offs or lower income from JobKeeper payments."
The 26 to 35 age group does not fare much better, accounting for the second-largest number of mortgages deferred as a proportion. The age group with the least deferrals is the 56 to 65-year-olds. 66+ also have higher levels of deferrals which is likely a reflection of deferral of investment property loans.
GRAPH 3: Proportion of Mortgages Deferred – Age by Account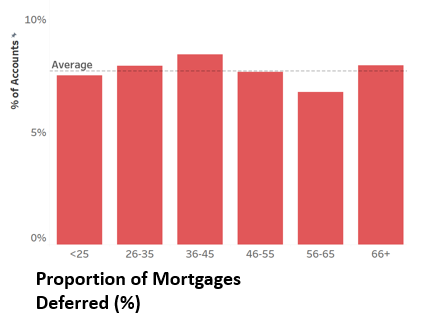 About the Analysis
The Equifax deferral analysis was conducted in September 2020 based on credit history and repayment information available for the month of May 2020 based on ABS statistical regions. The objective of this ongoing analysis is to understand mortgage deferrals and implication for Australia's credit landscape.
###
ABOUT EQUIFAX INC.
At Equifax (NYSE: EFX), we believe knowledge drives progress. As a global data, analytics, and technology company, we play an essential role in the global economy by helping financial institutions, companies, employees, and government agencies make critical decisions with greater confidence. Our unique blend of differentiated data, analytics, and cloud technology drives insights to power decisions to move people forward. Headquartered in Atlanta and supported by more than 11,000 employees worldwide, Equifax operates or has investments in 25 countries in North America, Central and South America, Europe, and the Asia Pacific region. For more information, visit www.equifax.com.au or follow the company's news on LinkedIn.
FOR MORE INFORMATION
DISCLAIMER
Purpose of Equifax media releases:
The information in this release does not constitute legal, accounting or other professional financial advice. The information may change, and Equifax does not guarantee its currency or accuracy. To the extent permitted by law, Equifax specifically excludes all liability or responsibility for any loss or damage arising out of reliance on information in this release and the data in this report, including any consequential or indirect loss, loss of profit, loss of revenue or loss of business opportunity.
Related Posts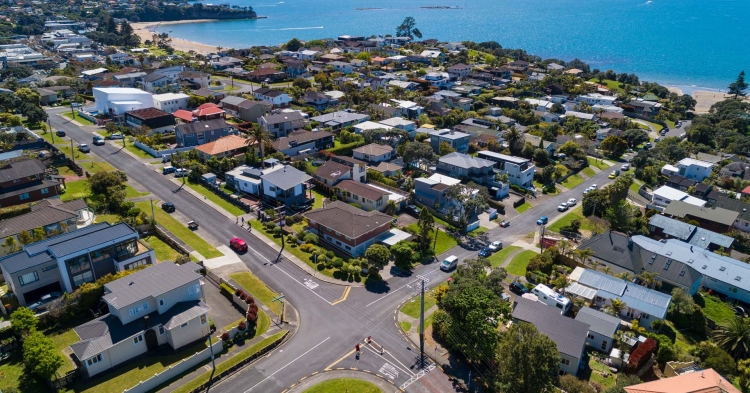 45% of Australians intend to purchase, renovate or build in the next five years. A third of this cohort (32%, approximately 2.9 million Australians) say they have a negative perception of the construction industry in Australia.
Read more