Business credit demand remains soft, but not all Australian states equally hit by 'The Great Lockdown'
Equifax Quarterly Business Credit Demand Index: June 2020
Overall business credit applications down -7.53% (vs June quarter 2019)
Business loan applications decreased by -4.11% (vs June quarter 2019)
Trade credit applications fell -17.82% (vs June quarter 2019)
Asset finance applications declined -6.72% (vs June quarter 2019).
SYDNEY – 6 August 2020 – While business credit demand declined in the June 2020 quarter, the rate of decline appears to have been mitigated by the federal government's COVID-19 economic stimulus measures. An increase in business loan applications in Queensland and a decrease in other Australian states and territories indicates that the economic impact of The Great Lockdown is not indiscriminate, according to data from the latest Quarterly Business Credit Demand Index (June 2020).
Released today by Equifax, the global data, analytics and technology company and the leading provider of credit information and analysis in Australia and New Zealand, the index measures the volume of credit applications for trade credit, business loans and asset finance.
Victoria and Western Australia led the way in experiencing the most substantial reduction in business credit demand, at -11.15% and -11.96% respectively. For business loan applications, the most significant downturn was in Victoria (-10.22%) and NSW (-9.27%). By comparison, business credit demand in Queensland contracted by only -1.19%, and business loan applications grew by +7.27%.
Moses Samaha, Executive General Manager Customer and Solutions, Equifax said: "Each Australian state was responsible for implementing its own set of rules in response to COVID-19. Queensland escalated its restrictions and border closures earlier, and its large tourist industry responded swiftly to taking up the stimulus package, which appears to have cushioned its economic downturn to date."
"The understated drop in business credit demand nationally indicates that all states and territories are experiencing a lag effect from the stimulus. Indeed, the trade payment data shows us that many businesses across Australia paid their electricity, gas, water and waste service providers faster than the same time last year. Stimulus payments have likely helped pay these core services. When the safety net is removed, we anticipate the downturn will be more pronounced," he added.
Asset finance continued a negative trend in the June 2020 quarter, reducing by -6.72% compared to the previous year. Trade credit applications were also down by -17.82% compared to -5.02% a year ago, in the June 2019 quarter. It was a downturn experienced in all states and territories, except for Tasmania.
Business credit applications dropped by -7.53% in the June quarter. The strongest reduction in credit demand was experienced in WA (-11.96%) and VIC (-11.15%), with NSW (-9.59%) and the ACT (-9.68%) following closely behind. SA decreased by -4.41% and Queensland by -1.19%. The NT (+61.78%)* and TAS (+2.09%) both experienced increased demand. There was a marked difference between the mining (-3.12%) and non-mining (-10.03%) states.
Business loan applications took a downturn in the June quarter (-4.11%). There was growth in NT (+144.53%)*, QLD (+7.27%) and TAS (+2.64%), but a significant fall in NSW (-9.27%) and VIC (-10.22%). Drops were also experienced in WA (-4.46%), the ACT (-3.96%) and SA (-1.95%).
Trade credit applications declined sharply in the June quarter (-17.82%). The ACT (-32.08%) and WA (-27.56%) were the worst affected, followed by QLD (-18.39%), SA (-18.31%), VIC (-18.28%), NSW (-14.07%) and NT (-8.55%)*. TAS (+8.81%) was the only state to experience an upward trend.  
Asset finance applications experienced a fall in the June quarter (-6.72%). NT declined the most at -24.70%*, followed by WA (-12.34%), VIC (-8.07%), NSW (-7.14%), TAS (-4.52%), QLD (-3.63%) and the ACT (-2.26%). SA increased slightly by 2.61%.  
* Please note this is based on low volumes of enquiries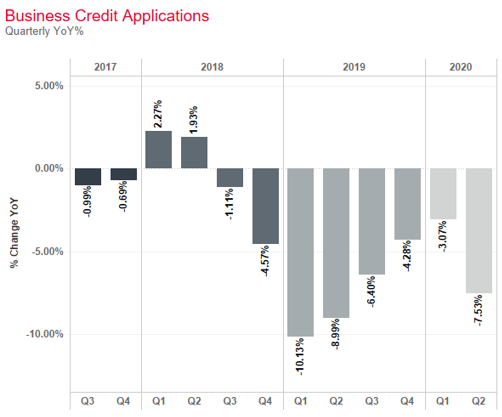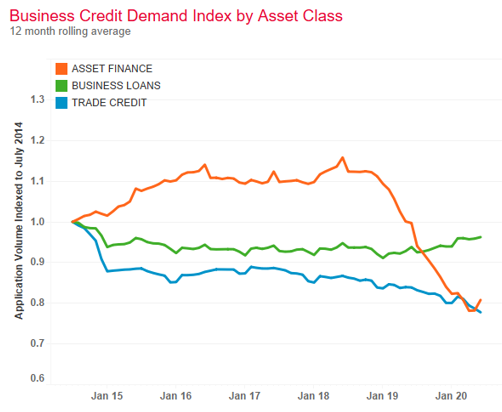 ABOUT EQUIFAX
At Equifax (NYSE: EFX), we believe knowledge drives progress. As a global data, analytics, and technology company, we play an essential role in the global economy by helping financial institutions, companies, employees, and government agencies make critical decisions with greater confidence. Our unique blend of differentiated data, analytics, and cloud technology drives insights to power decisions to move people forward. Headquartered in Atlanta and supported by more than 11,000 employees worldwide, Equifax operates or has investments in 25 countries in North America, Central and South America, Europe, and the Asia Pacific region. For more information, visit www.equifax.com.au or follow the company's news on LinkedIn.
NOTE TO EDITORS
The Quarterly Business Credit Demand Index by Equifax measures the volume of credit applications that go through the Commercial Bureau by financial services credit providers in Australia. Based on this, it is a good measure of intentions to acquire credit by businesses. This differs from other market measures published by the RBA/ABS, which measure new and cumulative dollar amounts that are actually approved by financial institutions.
DISCLAIMER
Purpose of Equifax media releases:
The information in this release does not constitute legal, accounting or other professional financial advice. The information may change, and Equifax does not guarantee its currency or accuracy. To the extent permitted by law, Equifax specifically excludes all liability or responsibility for any loss or damage arising out of reliance on information in this release and the data in this report, including any consequential or indirect loss, loss of profit, loss of revenue or loss of business opportunity.
Related Posts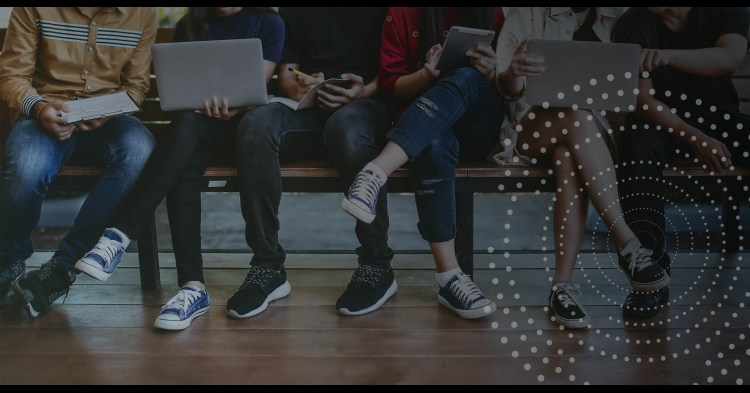 Equifax has been recognised as an ABA100 Winner in The Australian Business Awards 2021 for Product Innovation and New Product Innovation for Equifax One Score.
Read more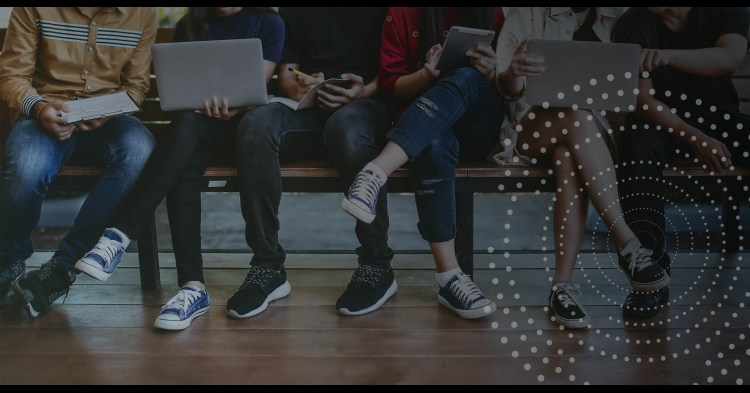 Equifax, the global data, analytics and technology company, has announced a partnership with leading HR and Payroll software provider Frontier Software. A first in the Australian market, the partnership will enable Frontier Software and its customers to streamline the employment income verification process and mitigate data handling risks in loan applications with automated employment income verification.
Read more