Verification Exchange from Equifax is an automated and comprehensive Income and Employment Verification service that streamlines the movement of information between employers and verifiers benefiting both the employee and verifier by creating a secure and accelerated decision making process.
FAST, SECURE, AND RELIABLE
Income and/or employment information are fundamentally relied on when it comes to assessing credit eligibility and verifying an individual's employment history. We understand what will give you the most complete picture on individuals so you can make better decisions. Verification Exchange is our Fast, Secure and Reliable verification provider.
Verification Exchange provides reliable income and employment verifications.

Verifiers
I need to verify employment or income of an individual.

Employers
I need to outsource employee verifications for my company.

Partners
I am a payroll company and would like to partner with Verification Exchange.
Why Verification Exchange?
Increase reliability of decision process

Manage and reduce risk

Reduce level of HR involvement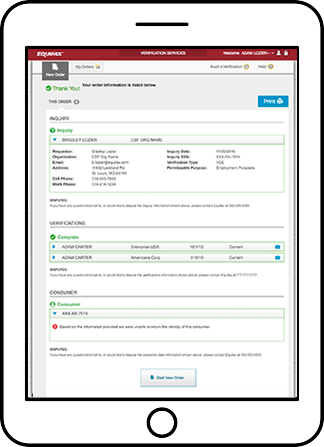 Keep personal information secure

Know who you're hiring
 

Trusted Information Provider