5 ways to reap the benefits of background screening
Make sure you're hiring the right person for the right job. Consider these five tips when screening candidates for roles in your organisation.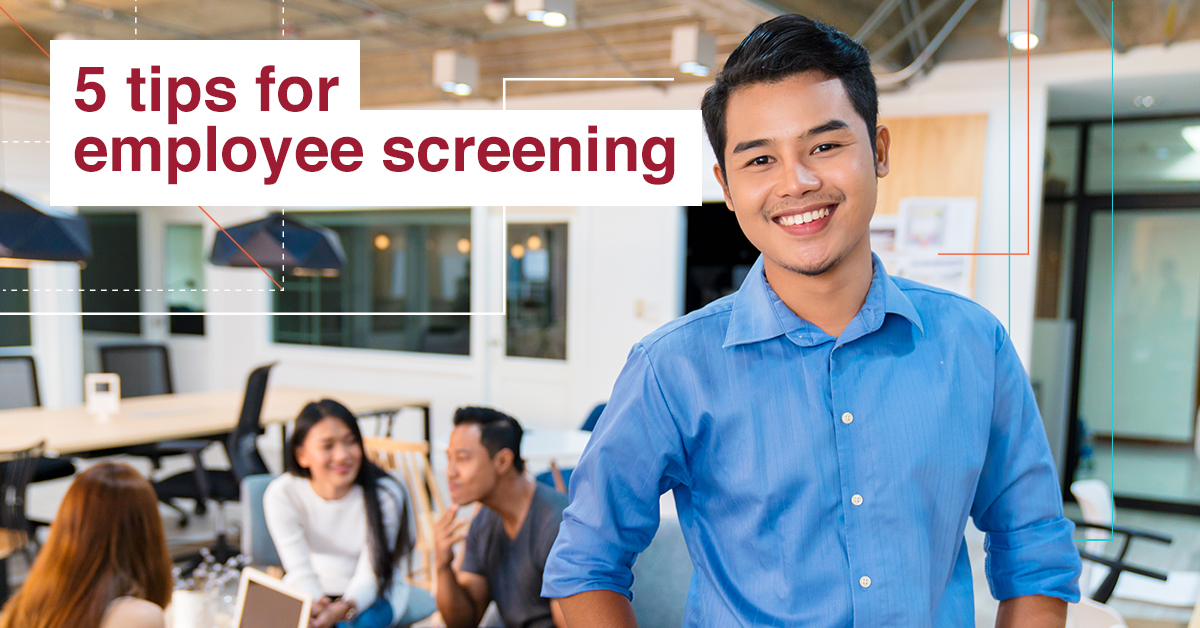 Organisations spend a considerable amount of time and resources to find, hire and train employees. If they turn out to be unsuitable for the role, there is a risk of financial and reputational damage to the business, as well as additional costs associated with training and support. You may even need to terminate the employee and start the recruitment process all over again.
To reduce these risks and make sure you're hiring the right person for the right job, consider these five tips when screening candidates for roles in your organisation.
1. Document your policy
Anti-discrimination law prevents an employer from discriminating against a prospective employee. There are limited circumstances in which you can refuse to employ a person following an adverse police check result. Circumstances might include a situation where a criminal record prevents them from legally performing the 'inherent requirements' of the job. It's your responsibility as an employer to work out the inherent requirements of each position and whether a criminal history check is to be conducted.
Inherent role requirements should be well documented in your organisation, along with other policies such as a privacy policy, anti-discrimination policy, advertising procedure and more. These protect you in the event of discrimination claims. If candidates aren't successful, you can explain why they did not meet the standards articulated in your policy. It also adds strength to your position if legal action were to arise.
2. Conduct regular screening
Screening checks shouldn't be limited to recruitment. They are just as important at other stages of the employee lifecycle. Police checks reflect a single point in time, so if there is an inherent ongoing risk in that role, we suggest you conduct checks periodically. Moving existing employees into a new role or offering them a promotion may also be a trigger for background screening.
Other triggers include a change in law, such as the recent change to the Australian Prudential Regulation Authority's Fit and Proper Persons requirements. We suggest you have a process and policy in place for scenarios where background screening is being introduced, including clear communication to the employee about why it's necessary and how it works.
3. Tailor checks to the role
For some occupations, police checks and other forms of background screening are mandatory under legislation and regulatory requirements. For others, screening is conducted voluntarily to help guard against potential risk. It's important to understand your obligations when it comes to mandatory screening, as well as the various risks in your organisation that may be reduced with background screening.
There are more than 70 types of background checks available, from qualifications and healthcare registration, to financial background and medical assessments. Creating a tailored selection of checks to your organisation and the role you're recruiting will help streamline your background screening processes, maximising your time and resources.
4. Consider psychometric testing
Psychometric testing has shown to increase the validity of recruitment decisions by up to 40 per cent, providing information that cannot be obtained through other recruitment methods, like interviews and reference checks. The tests are designed to help you predict future job performance, as well as the likelihood of behaviours such as misconduct, bullying and potential workplace health and safety issues.
Testing can be tailored to specific vocations, such as nursing, accounting, administration, customer service, mid management, HR, IT and more. It benchmarks candidates against previous applicants in the same vocation. This is important as different vocational groups tend to exhibit different sets of personality traits and values, as well as different levels of ability in verbal, numeric and abstract reasoning.
Psychometric testing has shown to provide a strong return on investment, reducing turnover and recruitment costs, as well as interviewing time. Ultimately, it significantly increases the likelihood of candidates being a good fit for the role and organisation. These benefits more than cover the cost of testing.
5. Create a positive experience
Background screening is consent driven. It's a good idea to explain that background screening is not there to stop the candidate from getting a job, but to ensure they land the right role. You can also let them know that it's useful for developing their career path and provides a better understanding of their key strengths.
Communicating the benefits of background screening can also improve the experience of your customers and build trust in your organisation. Integrating background screening into your recruitment process shows you have high standards and only hire the best people for the job, so your customers can enjoy better service, products and results.
Our fit2work platform can help you meet your onboarding, human resources and compliance needs across the employee lifecycle. You can choose from more than 70 screening checks, including psychometric testing. Contact us for more information, or visit fit2work.