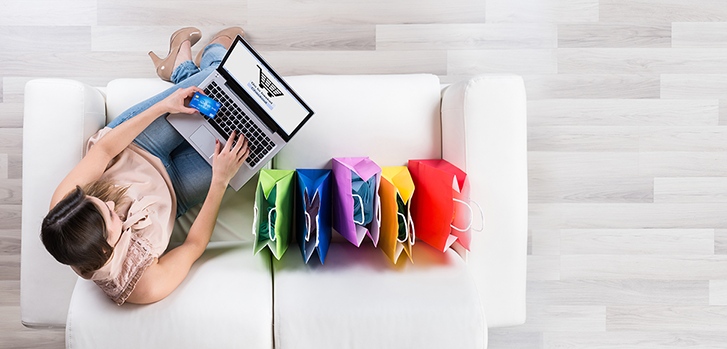 10 tips on how to spend smart when shopping online
24 October 2022
Articles
Personal Finance
Torn between getting a great deal and saving for your big-ticket financial goals?
It's easy to get swept up in a sale, especially during big shopping events such as the Black Friday Sales and Cyber Monday when it feels like everything is on discount. At best, you can grab some great deals and save on items you were going to buy anyway. At worst, it can leave you with a post-sale hangover and hold you back from your longer-term financial goals.
In this article, we help you find the right balance by shopping smarter. This means you can shop the sales, meet your big financial goals, and live your financial best.
1. Set spend limits
The temptation to spend at sales is real. In fact, 68% of Australians say they're more likely to shop when a discount is on offer. And while you can't fight psychology, you can set spending limits before the urge to spend hits. This can help you take advantage of discounts while keeping your longer-term financial goals in check.
2. Plan your purchases
Now that you have a set budget, work out what you need and want to buy before you're hit by feelings of urgency and impulse during a sale. By planning your purchases, you're more likely to make rational decisions that don't leave you with a post-sale hangover.
3. Do your homework
Check out comparison sites, read reviews, and compare prices across different sites or stores. So when the next big cyber sale comes up, you'll know what makes a good deal (and what doesn't) and can be ready to go.
4. Get in the know
Most people are aware of big shopping events such as Boxing Day and Black Friday, but aren't as sure about other sales on offer throughout the year. To make sure you're informed about the best deals, sign-up to the email lists for retailers you're interested in. As a subscriber, you might also get early access to sales or discount codes.
5. Be selective
While signing up to email lists can be a good move, it can also lead to more temptation. Balance keeping informed and keeping to your budget by being selective about which email lists you subscribe to. If you've signed up to email lists in the past and no longer need what they sell, hit unsubscribe to remove the temptation.
6. Consider how you'll pay
Will you pay with cash or credit? And if you use credit, what type will you use and how will you pay it back? Don't forget that using products such as Buy Now, Pay Later may have an impact on your credit score, so it's important to see how that fits in with your longer-term financial plans.
7. Don't forget security
Cybercriminals love big sales events as much as shoppers, with research highlighting that security incidents peak during peak sales periods. Make sure you're using secure sites that have a padlock sign and 'https' at the start of their web address (not 'http'). Use secure payment methods, two-factor authentication where possible, and avoid clicking on suspicious links sent via email or SMS.
How to spot a suspicious link
The sender address is from a public email domain such as @gmail.com rather than an official address belonging to the company.
The message includes generic greetings and sign-offs.
The domain name is misspelled.
The email or SMS contains poor spelling and/or grammar.
The link comes with a message that creates a sense of urgency.
A fake or unknown website comes up when you hover your mouse over the link.
8. Check your statements
If you're buying more than usual during sales periods, it can be easy to miss an error or unusual transaction on your bank statements. Review your statements regularly to check what you've purchased, when, and for what amounts. This can help you spot any duplicate or incorrect transactions. As an added bonus, you can also pick up any signs of identity theft early and reduce the potential damage.
9. Know your rights
Check refund policies for details such as timeframes, conditions, exclusions, and warranties. In Australia, you're entitled to a refund or repair if your purchase has a major problem, but refunds for change of mind purchases aren't compulsory so this will vary across retailers.
10. Get paid to spend
Make grabbing a discount even sweeter with an added boost to your finances. Cashback programs such as Cashrewards, ShopBack, and Super-Rewards earn a commission every time you buy with a retailer linked to their site. In return, you'll get paid a cashback payment to add to your bank account or even your super. Another option is to use coupon codes, which you can find via sites such as Honey and Groupon. Signing up for these programs is quick, easy, and free.
Equifax is Australia's largest consumer credit reporting bureau and is trusted with 19.9 million consumer credit files. We give customers the knowledge they need to make informed decisions so they can live their financial best. Check out our range of credit and identity services to learn more.