Eight Steps To Creating a Solid Personal Finance Plan
23 February 2022
Articles
Having a plan is a key part of a strong financial foundation.

This plan allows you to reach your long-term goals such as saving for a house deposit or retirement. It also allows you to stay on track with your expenses and ensure you are consistently building wealth. 

Here are the six steps to creating a solid personal finance plan.

1. Understand your current situation

The first step to creating a financial plan is understanding what the current situation is. Take some time to assess your income, expenses and debt so that you can identify any problem areas. Financial goals aren't static and are likely to change year-on-year. An old investment may no longer align with the current goals or you want to take advantage of new opportunities and market conditions, such as the current low-interest rate environment. 

2. Learn and monitor your credit report

Have you recently checked your credit report? Your credit is a key component of your financial well being because it enables you to achieve major financial goals, such as buying your first home. Equifax offers a range of plans to help you live your financial best. You can also download your credit report for free by clicking here.

3. Protect your identity

Sadly, identity crime has been on the rise during the COVID-19 pandemic. Being aware of how not to fall victim to ID theft is more important than ever. Monitoring and protecting your credit score alerts you to any problems quickly so that you can act fast. The Equifax Credit & Identity Protect subscription helps you manage and protect your credit profile and your identity. It allows you to regularly track your Equifax credit score and receive credit alerts if certain changes appear on your Equifax credit report, such as payment defaults or a new credit enquiry, which can help alert you quickly to any suspicious activity. 

4. Get organised

Keeping an efficient record-keeping system can help minimise stress around tax time. If you haven't organised this, set up one now that you can easily stick to each week. Create a spreadsheet to record and add up your deductions throughout the year or download an app that lets you scan and store them on the go, making it a simple process when tax time comes around.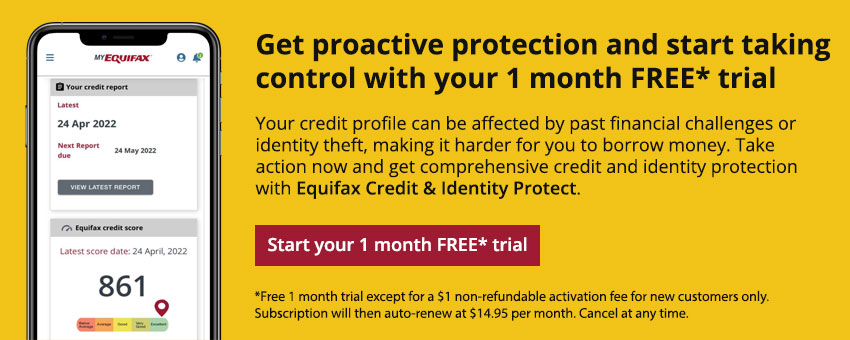 5. Make paying off debt a priority

If you have significant debt, paying this off should be incorporated into your financial plan. Paying off debts with high interest rates should always be your number one priority. Explore ways you can pay off your debt faster, such as researching more competitive products, refinancing your mortgage or consolidating your debt.  

6. Give yourself a fiscal health check

When was the last time you did a credit health check? It is important to review your finances regularly to uncover problem areas. The time investment is well worth it to identify and tackle areas that will help improve your credit score, which has many benefits for your financial future. 

7. Build a savings buffer

Do you have an emergency fund? An emergency fund is a pool of money set aside with the intention to use during an emergency such as a vehicle breakdown or job loss. Consciously saving a small, regular amount from foregoing something you can easily do without could be the key to building your savings. A rainy-day fund can prevent you from running up debt and keeping your finances on track. It also reduces stress that can come from unforeseen circumstances.

Saving $10,000 a year may seem like a challenging goal to achieve, however you would only need to save $27.40 a day. Direct that cash into a long-term savings account or investments. There are even some great apps out there that will automatically do it for you. Check out what products your financial provider has on offer. 

8. Build and update a budget

Taking stock of previous finances and spending can help you create a realistic budget for the year ahead. If you're having trouble creating and keeping to a budget, try downloading one of the many available money-tracking apps and recording all of your spending into it for at least a month to see where your cash is actually going. Then use an online budget calculator to create a budget with the data you've gathered.
Let Equifax support you with building a financial plan. Equifax Credit & Identity Protect helps you manage and protect both your credit profile and your identity. Access your credit report monthly, get alerts on changes to your credit score and understand the top four factors that contribute to this. Keep your personal information safe with dark web monitoring and access up to $15,000 in identity theft insurance.

Sign up to Equifax Credit & Identity Protect today.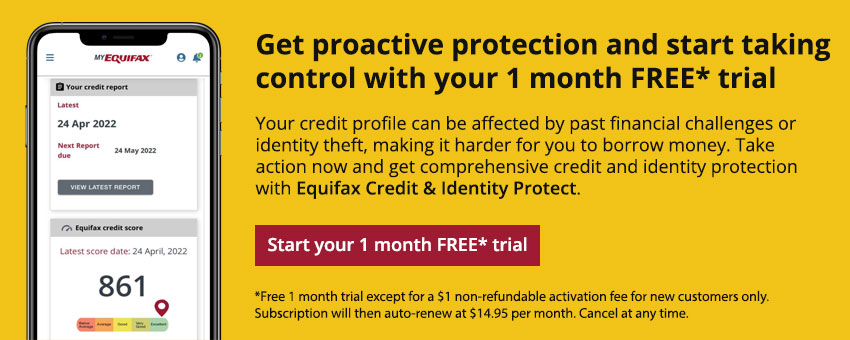 ---
Disclaimer: The information contained in this article is general in nature and does not take into account your personal objectives, financial situation or needs. Therefore, you should consider whether the information is appropriate to your circumstance before acting on it, and where appropriate, seek professional advice from a finance professional such as an adviser.