All News & Media
Veda has today completed its rebranding process to officially become the Australian and New Zealand division of Equifax, the global information solutions company, listed on the New York Stock Exchange, and the leading provider of credit information and analysis in Australia and New Zealand.
Veda, Australia and New Zealand's leading provider of consumer and commercial data and insights and a wholly-owned subsidiary of Equifax, is leading the way for the mortgage industry to transition to a standardised and digitised process through its ZipID service.
Veda and the Consumer Action Law Centre (Consumer Action) have agreed upon a conciliated resolution to the representative complaint lodged by Consumer Action with the Office of the Australian Information Commissioner (OAIC), in respect of Veda's ABR Gazette commercial information service.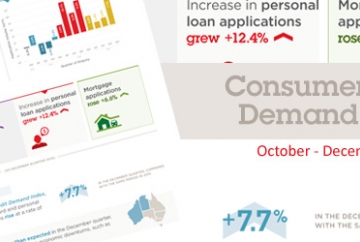 Sydney, Australia, Tuesday, 31 January 2017: The Veda Quarterly Consumer Credit Demand Index, measuring the volume of credit card and personal loan applications, saw applications rise at a rate of 7.7% in the December quarter, compared with the same period in 2015.