Dr Helen Nugent AO is Veda's New Chairman
Dr Helen Nugent AO is Veda's New Chairman
|

Sydney, Australia, Thursday 19th September:  Veda is delighted to announce that Dr Helen Nugent AO has accepted the role of Independent Non-Executive Chairman of the Board of Directors of the Veda Group.

"Helen is one of Australia's leading businesspeople and will bring a wealth of experience to the Veda Board," Veda CEO Nerida Caesar said.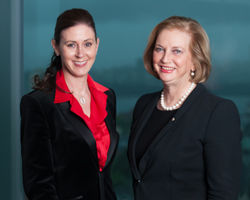 "Helen has built a highly successful career in the financial services sector as a partner with McKinsey & Company;  as a senior executive with Westpac; and more recently as a non-executive director.  She is currently a non-executive Director of Macquarie Group and is Chairman of Funds SA, which has $21billion under management.  Previously, she served as Chairman of Swiss Re in Australia and as a non-executive director of the State Bank of NSW and Mercantile Mutual."  Helen currently also serves as a Director of Origin Energy.  
 
"The fact that Helen has agreed to lead our Board further demonstrates the strategic importance of Veda within the credit industry.  It's a great win for Veda to have someone of Helen's calibre working with us."
 
"Veda is growing strongly as the markets for its services undergo quite significant change and I am sure Helen's experience will add a great deal of value to the company."
 
"I am looking forward to working with Helen and our entire Board on the next phase of Veda's journey and, as Independent Chairman of Veda, I know Helen will provide great guidance and strategic insight to the Veda management team."
 
Helen Nugent said she was looking forward to becoming Chairman of such a vibrant and growing company as Veda.
 
"Everyone who works in the financial sector in Australia knows the critical role Veda plays in the credit space," Dr Nugent said.
 
"Veda is integral to the financial services infrastructure in the way it helps credit providers with critical decisions.  Now the business is taking its insights and solutions to customers in a number of other fields and is uniquely placed to assist in identity verification, fraud prevention, customer segmentation and marketing."
 
"Veda's management has done a great job over the past few years in diversifying Veda's business into new markets and business segments by providing a diverse range of corporate and direct-to-consumer platforms.  The services Veda provides are critical to the well-being of our economy", Dr Nugent said.
 
"With the rapid evolution of the regulatory environment, Veda has significant opportunities to continue to expand its services to customers. I look forward to working with Nerida and her team to harness those opportunities."
 
Dr. Nugent will join existing directors Nerida Caesar, Anthony Kerwick, Tony Duthie and Geoff Hutchinson on the Veda Board.

For more information please contact:
Click here to download Hi-Res image of Nerida Caesar & Dr. Helen Nugent
Biographical Information for Helen Nugent AO
Helen is a leading Australian businesswoman. She currently serves on the boards of Macquarie Group, Origin Energy, and is Chairman of Funds SA.

Helen is a former director of numerous other companies, including Swiss Re (Australia) where she was Chairman, the State Bank of New South Wales, Mercantile Mutual, Freehills, Australia Post and Carter Holt Harvey.  

Helen completed a Bachelor of Arts (Hons) and PhD at the University of Queensland (UQ), and earned a Master of Business Administration from the Harvard Business School. Helen taught Asian history and culture at UQ from 1971 to 1980, and was awarded an Honorary Doctor of Business degree in 2009 by her alma mater.

Helen commenced her business career at McKinsey & Company where she became a partner, specialising in financial services and mining. Before pursuing a career as a Non-Executive Director, Helen was Director of Strategy and a member of the Executive team at Westpac Banking Corporation.

Helen has also been involved in education. She was a member of the four person Bradley Review that developed recommendations for the Federal Government on Australia's tertiary education system. In 2009, she was appointed as Chancellor of Bond University and is also the current President of the Cranbrook School Council.  Previously, she has been Professor in Management and Director of the MBA Programme at the Australian Graduate School of Management at the University of New South Wales.

In addition, she has been proactive in the arts, including being the current Chairman of the National Portrait Gallery of Australia.  Previously she was Chairman of the four person Nugent Inquiry into the Major Performing Arts; Chairman of the Major Performing Arts Board; Deputy Chairman of Opera Australia and Deputy Chairman of the Australia Council.