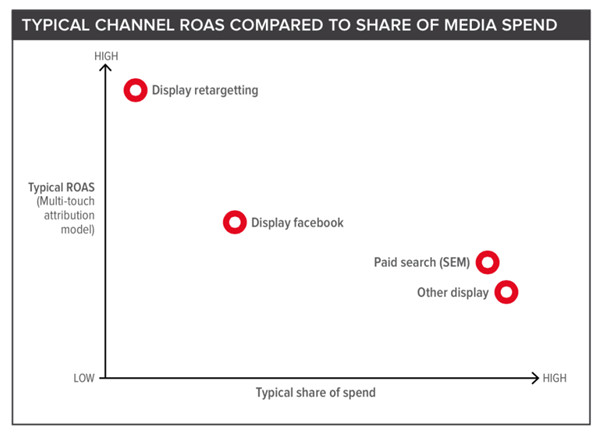 "In the end it is all about achieving the right channel mix", said Bartens, and multi-touch attribution helps to identify the roles that different channels play in the path to purchase which is invaluable in developing an efficient, scalable and profitable digital media strategy: While search is efficient in capturing demand it is not necessarily generating it, whereas display advertising is a powerful tool to build awareness, consideration and purchase intent. 
Gai Le Roy, Director of Research at the IAB in Australia said: "It is fabulous to see advertisers increasing their sophistication in reviewing the effectiveness of their media spend. A recent study conducted by IAB Australia indicated that only a quarter of buyers are using multi-touch attribution analysis and still put way too much weight on last click or clicks overall. This study shows a positive impact across the variety of digital ad channels that were used and will help marketers to start optimising campaigns based on creative exposure as well as any direct interaction.
For the full report, including a breakdown of the recommended optimal media mix to maximise return on ad spend, go to data.li/mastudy.
Notes to editors:
Datalicious produced this research in partnership with Facebook, however the attribution model and analysis was developed independently by Datalicious. The research is based on a sample size of 702 million media touch points across 104 million purchase paths and 75 thousand conversions across five months and seven brands (Suncorp, AAMI, APIA, BUPA, Aussie, St George and GE Money), which makes it the biggest study of its kind to date.
About Datalicious:
Datalicious is a full service analytics agency providing client focused solutions designed to scale with any organisation. From our beginnings as an Australian web analytics consultancy, Datalicious has expanded into a global 360 analytics specialist that provides a wide range of products and services to help our clients achieve smart data driven marketing best practice. Datalicious is part of Equifax (ASX:VED).
The information in this release is a summary of some of the findings of Datalicious' study and is presented subject to the detailed terms of reference, inputs and results of that study. It does not constitute and cannot be relied on as professional or other advice or as an indication of actual or future ROAS. To the extent permitted by law, Datalicious excludes all liability arising out of reliance on information in this release.