Growth in consumer credit demand eases slightly while borrowing habits evolve
Growth in consumer credit demand eases slightly while borrowing habits evolve
|

Consumer Credit Demand Index by Equifax (March 2017 Quarter)
Overall consumer credit applications rose +4.6% (vs March quarter 2016)

Credit card applications fell by -3.8% (vs March quarter 2016)
Personal loan applications continued to rise, up +13.5% (vs March quarter 2016)

Mortgage applications rose +4.3% (vs March quarter 2016)

Download Infographic
Sydney, Australia, Wednesday, 12 April 2017: Equifax, the global information solutions company and the leading provider of credit information and analysis in Australia and New Zealand has released its Quarterly Consumer Credit Demand Index. The Index measures the volume of credit card and personal loan applications, which rose at a rate of +4.6% in the March quarter, compared with the same period in 2016.
The continued surge in personal loan applications, up +13.5% on the same period in 2016 and +1.1% on the last quarter, was a key driver of the tenth consecutive quarter of growth in the Index.
The figures show a continuing divergence in the growth of personal loans versus credit card applications. The sustained growth in personal loan applications continued to be predominantly driven by different products offered by new entrants in the personal lending market.
Angus Luffman, Senior GM Consumer Products, Equifax, said the rise in personal loan applications was underpinned by new lending entrants with differentiated options for borrowers. He noted that consumers were embracing different ways of paying for their purchases, although they remained generally circumspect about taking on additional credit.
"The data from the March Index by Equifax, showed increased personal loan activity, which is consistent with the recent credit data from the Australian Bureau of Statistics (ABS), which showed that new personal finance commitments in January grew by +3.9% year on year.
"At the same time, the Reserve Bank of Australia has found that people are making more frequent, lower value transactions on their credit cards, with purchases per account up +6.3%, while the spend per purchase was down by -4.6%.
"The data shows that consumers are adapting to different payment options at the point of sale. While credit cards are being used more for everyday transactions, it is likely consumers are funding a greater number of higher value household purchases through personal loans. The growth in personal loans has, in large part, been driven by newer lenders who cater to consumer's increasing demand for an online experience," Mr Luffman said.
Despite the continued growth in personal loan applications, auto-loan applications fell by -2.2%, following slowing growth in the last two quarters.
Credit card applications showed a fall in all states and territories in the March quarter.  WA (-12.3%), Victoria (-9.9%), NSW (-8.8%), SA (-7.9%), Queensland (-7.2%), Tasmania (-7.0%), ACT (-5.3%) and the NT (-3.8%) all showed a fall in the number of credit card applications.
There was a further strengthening in the growth of personal loan applications in the March quarter. Double digit growth rates were seen in SA (+14.3%), Tasmania (+14.1%), NT (+13.6%), NSW (+12.4%) and Victoria (+10.3%), with the ACT (+7.3%), Queensland (+6.9%) and WA (+6.9%) also recording strong growth rates.
The growth in mortgage applications eased in the March quarter but jumped +22.6% in Tasmania. The annual rate of growth in mortgage applications eased to +4.3% year on year in the March quarter of 2017, down from +6.6% in the December quarter. 
The strongest growth was seen in Tasmania, which surged by +22.6%, followed by the ACT (+12.2%), NSW (+9.1%), Victoria (+6.6%), SA (+1.0%) and Queensland (+0.3%). WA (-12.3%) and the NT (-8.9%) fell for the third consecutive quarter. WA experienced its sharpest decline yet, with applications down -1.7% on the December quarter.
"In recent quarters, the Index has shown mortgage demand growth in Tasmania which we are now seeing filter through to house prices, with prices rising in Hobart by +8% in December 2016 compared to December 2015. Based on the latest surge in demand we expect this upward trend in Tasmanian house-prices to continue," said Mr Luffman.
 "At the other end of the market, the continued decline in mortgage applications in WA and the NT, reflecting the economic downturns both states are experiencing, suggests that the downward trend will not abate anytime soon," Mr Luffman added.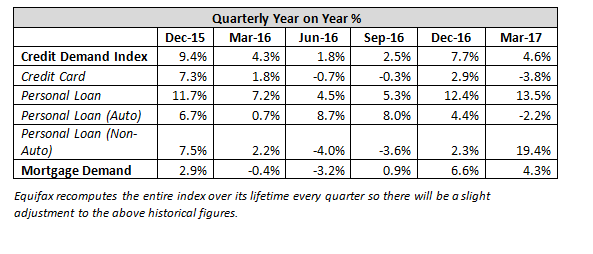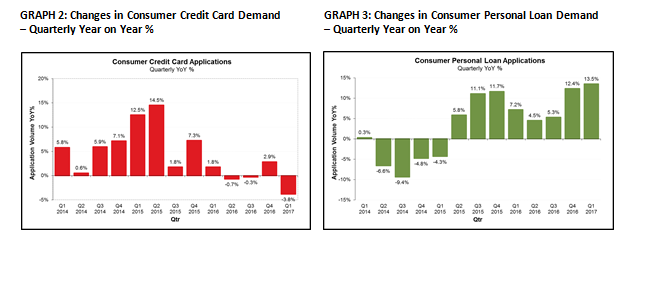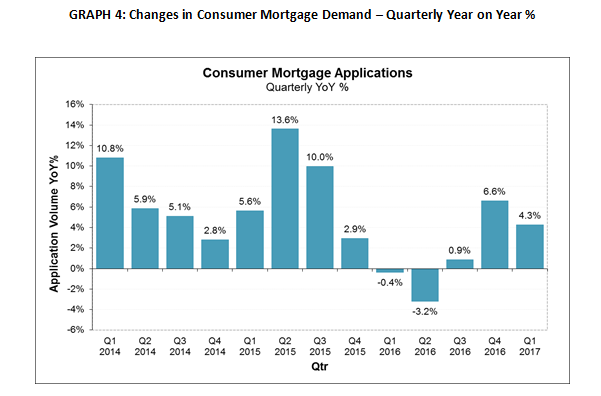 NOTE TO EDITORS
The Quarterly Consumer Credit Demand Index by Equifax measures the volume of credit card and personal loan applications that go through the Equifax Consumer Credit Bureau by financial services credit providers in Australia. Credit applications represent an intention by consumers to acquire credit and in turn spend; therefore, the index is a lead indicator. This differs to other market measures published by the RBA which measure credit provided by financial institutions (i.e. balances outstanding).
DISCLAIMER
Purpose of media releases from Equifax:The information in this release is general in nature, is not intended to provide guidance or commentary as to the financial position of Equifax and does not constitute legal, accounting or other financial advice. To the extent permitted by law, Equifax provides no representations, undertakings or warranties concerning the accuracy, completeness or up-to-date nature of the information provided, and specifically excludes all liability or responsibility for any loss or damage arising out of reliance on information in this release including any consequential or indirect loss, loss of profit, loss of revenue or loss of business opportunity.