Overview
Biometrics Identification & Authentication
When verifying a customer's identity, how do you know they are who they claim to be? And how do you help protect your organisation from compliance breaches and fraud attacks during onboarding? You could have your customers jump through frustrating and cumbersome hoops to prove their identity, or you can opt for an all-in-one biometrics solution that is fast, accurate and secure.
The Equifax Biometrics Identity Verification Solution uses leading technology and global best practices to combine multiple identity verification and fraud protection elements without compromising customer experience. We achieve these crucial steps in a single, seamless interaction which includes:
The capture of high-quality images from the required ID documents. Camera controls are used to capture the best possible photos that allow users to complete the process on their first attempt.
Liveness testing to validate that the user is alive and physically present for the facial matching, avoiding spoofing, deep fakes or presentation attacks.
Biometric facial matching to determine whether the person pictured in the selfie matches the person in the photo ID document.
The extraction of relevant document details using Optical Character Recognition (OCR) to avoid keystroke errors and improve data accuracy. Customer consent is collected as part of this process.
Document fraud analysis to determine whether the ID document is legitimate and has not been tampered with or is a forgery.
Data verification can be performed via IDMatrix against data sources like the Document Verification Service (DVS), FraudCheck and PEP & Sanctions screening for another layer of protection
Watch a one minute video showing how quick and easy it is for your customer to verify their identity with Equifax Biometrics
Optimise conversions with biometrics
Today's customers expect convenience without compromising security. Use Equifax Biometrics to onboard your customer in minutes using a single elegant mobile workflow that identifies and authenticates the user. Equifax Biometrics automatically jumps through the hoops, so your customer doesn't have to. Equifax Biometrics strengthens protection against identity fraud while providing an efficient and intuitive experience for improved customer conversions.
Our financial service clients have seen a 40%1 increase in customers completing their applications since replacing traditional ID data capture methods with digital ID capture.
Australian biometrics technology
Equifax Biometrics technology is Australian-owned, developed and hosted, with all data stored securely in Australia. We are experts on Australian ID documents and process more Australian identity documents than other providers in the market.
We offer TDIF accredited services under the Australian Government's Trusted Digital Identity Framework (TDIF) via our trusted partner IDVerse, an OCR Labs Company. The solution meets rigorous privacy protections, risk management, security and fraud controls. Our Australian-based customer support team complements our global leadership in data, analytics and technology.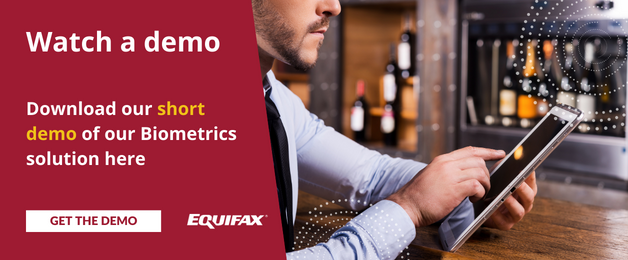 1Reported by Australian banking and finance customers in 2021/2 pre and post implementation of Equifax Biometrics with facial recognition solution.