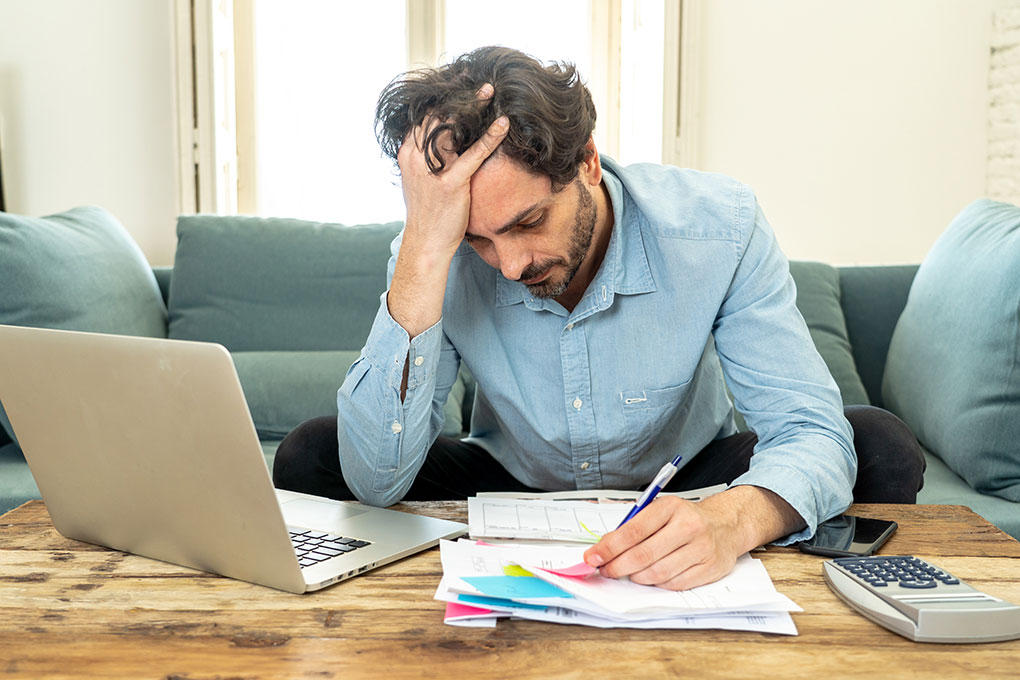 When your finances are stretched, paying all of your bills in full on time each month can become near impossible. If you are struggling to pay your bills on time, it's worth giving some thought to how best to prioritise them. This can help minimise any impact on your credit score and ease your long-term financial recovery. 
While your decisions will need to be guided by your specific financial situation, the following tips can help you get started:
Put housing, food and health first
Maintaining a roof over your head, enough food for your family, and the ability to pay medical expenses are usually the most critical needs when times are tough. This means you should put paying your rent or minimum mortgage payment first and set aside money for groceries and medical needs before you pay other bills.
Seek a mortgage payment holiday or rent relief if you need to
Many banks and lenders are lowering home loan rates and allowing eligible customers affected by the COVID-19 pandemic to defer payments for up to six months. Check your lender's website for information and speak to them about what is available.
In late March, Prime Minister Scott Morrison declared a six-month "eviction ban" to help protect renters. However, this depends on legislation enacted by each state and territory. The Tenants' Union of NSW has information on Renting and COVID-19 that can help, including links to relevant services throughout Australia.
Make sure your essential utilities are covered
Securing water, heating and electricity are also top priorities for your health and safety, as is at least one landline or mobile. If you're struggling to meet utility payments, get in touch with the relevant providers sooner rather than later, as most will be prepared to work with you during this period of uncertainty. It's also critical to notify your electricity provider if you're dependent on medical equipment in your home.   
Ensure you can make essential journeys
While more of us are now working from home, there will still be essential journeys, such as going to medical appointments, buying groceries or visiting vulnerable relatives to help with their care needs. If you depend on your car for these trips or travel for work, it's important to stay up-to-date with payments such as insurance and registration. If you're able to use an alternative mode of transport that's cheaper than running a car, such as walking or cycling, it's worth considering how much you could save by doing so, and if that money could be better spent elsewhere.
Stay on top of credit card payments and personal loans
When finances are stretched, it's best to pay loans that aren't due only once your essential expenses are covered. However, personal loans and credit cards often have higher interest rates, so letting them go unpaid means more interest in the long term. If you're struggling, contact each lender as soon as possible and talk through your options.
Don't forget your tax commitments
If you still have employment, you probably don't have to worry about tax, as your employer will likely be taking it out for you. However, if you are self-employed or a contractor it can be all too easy to neglect to put your tax money aside when your finances are stretched. Try to keep putting that money aside – ideally in a separate, dedicated tax account. If you are having difficulties, check out the information on the ATO's COVID-19 resources page or speak with your accountant.
If you are receiving the JobKeeper payment and are not having tax taken out by your employer, remember that the $1500 per fortnight payment is before tax so you will need to pay tax on these payments come tax time. Check out the ATO's JobKeeper page for more information.
Playing catch up with unpaid bills
For many people struggling financially during the COVID-19 pandemic, delaying regular payments and debts may be unavoidable. However, it's important to remember that you'll still have to pay back your debts in the long-term, possibly with additional interest due to the interest being capitalised. Paying at least the minimum on all financial obligations, and more where you can, will help you get back on track sooner.
For more information, check out the Australian government's official COVID-19 business and financial support website.   
Disclaimer: The information contained in this article is general in nature and does not take into account your personal objectives, financial situation or needs. Therefore, you should consider whether the information is appropriate to your circumstance before acting on it, and where appropriate, seek professional advice from a finance professional such as an adviser or an accountant.