Overview
Equifax's Collections Reports and Alerts combine as a powerful debt collection solution that significantly increases your chances of making contact with someone and making it quickly so you can finally get your money back.
8% - The average hit rate when merchants and lenders search for new addresses using publically available data only
30-45% - The average hit rate when searching for new addresses using Equifax data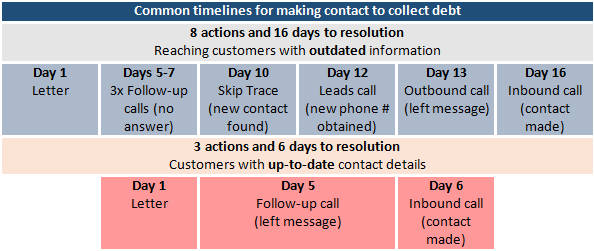 Why this solution will help
One of biggest reasons why you're unable to collect at 90+ days past due is because customers are difficult to locate as you have limited and old contact information.
While there's still hope though, skip tracing using publically available information is often not enough.
Give yourself and your debt collection services the best possible chance of making contact. Equifax's Collections Reports and Alerts give access to the largest, most comprehensive and current data sources in Australia and New Zealand.
What's included
Equifax's Collections Reports and Alerts tackle your search and recovery efforts in two stages to maximise the likelihood of debt recovery. The Collections Report is ordered when a collections process is first instigated. The Collections Alerts are real-time notifications for when individuals update their contact details during the collections assignment.
Contained in Equifax's Collections Reports and Alerts is only the data specially needed by credit providers and lenders to improve recovery, with nothing unnecessary to process proceedings. That data is compliant with the Privacy Act.
The latest information from wholesale and public sources in one location
Phone numbers
Addresses
Employee details
Drivers licence details
Aliases
Bankruptcy insights